Kayıt

10 Mayıs 2007
Mesajlar

1.003
Beğeniler

0
Şehir
Harddisk'inizin Özellikleri , Sıcaklık , Doluluk Oranı Hakkında Geniş Bİlgiler SağLayan Bir Programdır.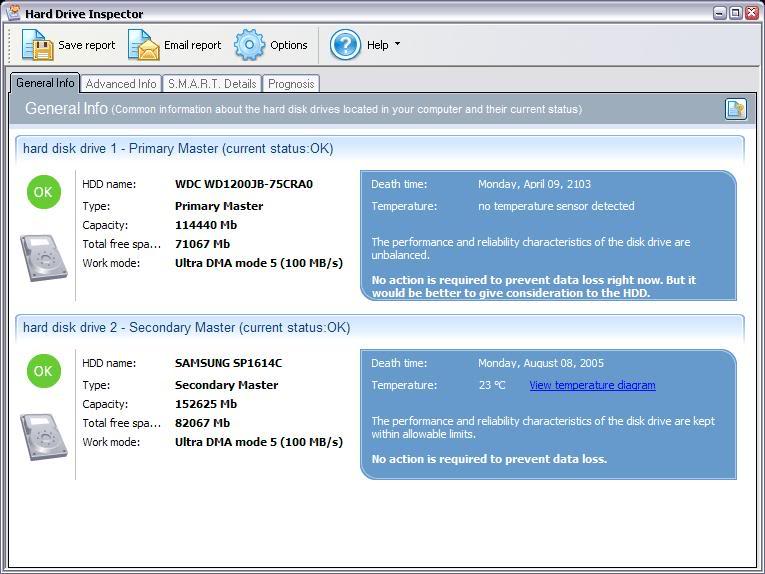 Hard Drive Inspector is a powerful, convenient and effective program based on the S.M.A.R.T. technology, which allows controlling the state of your hard disk drives.
Most computer users argue that information stored on their computer is the most valuable element of the computer system. With the help of the S.M.A.R.T. System, Hard Drive Inspector allows you to predict a possible failure of the HDD before this occurs. As the access to electronic information becomes more and more vital in business and at home, Hard Drive Inspector allows exceeding the traditional limits of HDDs reliability, thus extending the level of valuable user data protection. Hard Drive Inspector has a flexible option system, which allows you to customize the functionality of this utility, according to your needs. Hard Drive Inspector has an easy-to-use, nice-looking interface. It also offers many useful features, which make the S.M.A.R.T. monitoring process full-scale and easy.
Hard Drive Inspector v1.98 build 1014 Incl. Cracked.exe by REVENGE CREW
Download full cracked:
Code:
http://rapidshare.com/files/11884239/Ha ... _HoCuS.rar
Rar Pass: hackhell